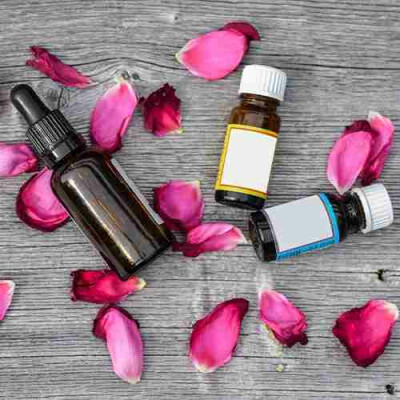 ---
---
---
High quality perfume oils for cosmetics & as room fragrances
Perfume oils are a great option for making DIY cosmetic products as they can add a pleasant scent and customise the product. Here are some ways perfume oils can be used in DIY cosmetics:
Homemade perfumes: You can use perfume oils to make your own unique perfumes. Simply mix the perfume oil of your choice with a carrier oil like jojoba oil or almond oil and pour it into a spray bottle. You can combine different perfume oils to create your own personal fragrance.
Massage oils, body oils and lotions: Add a few drops of perfume oil to your homemade body oils or lotions to give them a pleasant scent. Be sure to mix the perfume oil well with the other ingredients to ensure an even distribution of the fragrance.
Bath and shower products: Add a wonderful fragrance to your homemade bath bombs, bath salts, shower gels or soaps with perfume oil. Add the perfume oil to the desired amount and be sure to mix it thoroughly to ensure even distribution.
Lip balm and lip gloss: A few drops of perfume oil can add a subtle flavour and fragrance to your homemade lip balm or lip gloss. Mix the perfume oil carefully with the other ingredients to ensure it is evenly distributed.
Scented hair care products: Add a few drops of perfume oil to your homemade hair oils, hair perfumes or hair conditioners to give your hair a pleasant scent. Remember to mix the perfume oil well before applying it to the hair.
Fragrance lamps: A fragrance lamp consists of a bowl in which water and a few drops of perfume oil are placed. A candle or tea light underneath heats the water and perfume oil, releasing the fragrance. The fragrance lamp produces a gentle and long-lasting fragrance that pleasantly perfumes the room.
Aroma diffuser: Aroma diffusers are electrical devices that convert water and perfume oil into a fine cloud of mist and release it into the room. There are different types of aroma diffusers, including ultrasonic diffusers, evaporative diffusers and heat diffusers. Each type has its own way of working, but the basic principle is to mix the perfume oil with water and diffuse the fragrance. This creates a relaxing atmosphere.
Typical Thai fragrances for your DIY cosmetic products or for room fragrancing
Typical Thai fragrances are often inspired by the rich and diverse nature of the country. Kitama perfume oils bring these typical Thai scents directly into your massage studio:
Jasmine: Jasmine is a fragrant flower that is widely used in Thailand. The scent of jasmine is floral, sweet and intense. Jasmine flowers are often used for traditional rituals, ceremonies and also for perfume making.
Ylang-ylang: Ylang-ylang is an exotic flower with an intense, floral scent. It is often used in Thai perfumes and essential oils and has a sensual and calming character.
Leelawadee Frangipani: Frangipani is a beautiful flower with a beguiling, sweet fragrance. It is a symbol of the tropics and exoticism. The fragrance of frangipani is often used in perfumes, body care products and incense.
Coconut: The scent of coconut is also typical of Thailand. Coconut oil is often used in cosmetic products, massage oils, and incense sticks.
Rose: The scent of white rose has a calming effect on the body and can help relieve stress and improve mood. The feminine-sweet scent is often used in sensual massage oils.
Lotus: The lotus scent is a floral, sweet fragrance with a subtle spiciness. The scent is often described as balsamic, aromatic and earthy. There are different types of lotus flowers, each of which can have a unique fragrance, but the scent is often perceived as exotic, sensual and soothing.
Dok Mok (Water Jasmine | Night Jasmine): In Thai culture, the Dok Mok flower has a special meaning and is often associated with romance, love and beauty. It is also seen as a symbol of purity and spirituality and is often used in religious ceremonies and temple festivals.
These fragrances are characteristic of Thailand and reflect the natural beauty and diversity of the country. They are used in various products such as perfumes, essential oils, massage oils, scented candles, incense sticks and body care products to create a tropical and relaxing atmosphere.