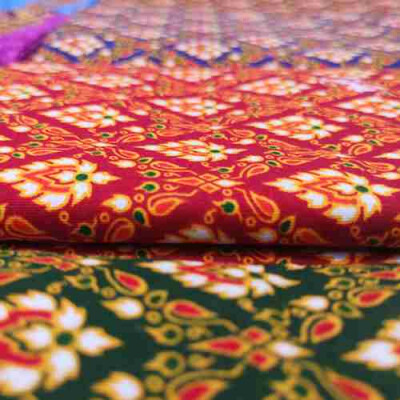 ---
---
---
Thai fabrics and bed sheets with traditional Thai patterns. Ideal as a sarong or bed sheet. Contribute to a typical Thai atmosphere in Thai massage / Thai spa.
Our Thai textile fabrics and shawls directly come from Thailand and are made there by local skilled personnel with the finest handwork. Great care is taken to ensure the quality and sustainability of the fabrics.
The various fabrics and shawls can be combined in different ways and are versatile. This is how you create your own feel-good factor!
You can choose between three different patterns:
Thai Siam Classic (red, brown, purple, blue or green)
Thai Siam Elephant (orange, pink, blue or green)
Thai Siam Premium (pink, brown, purple, blue or green)
The different patterns are typically Thai and fit perfectly in your Thai massage studio or even in your home. Complemented by a colourful design, the fabrics create an atmosphere that lets you immerse yourself in Thai culture, far away from stress and tension. Perfect conditions for a massage!
Thai Siam Classic convinces with classical patterns for an authentic Thai ambience; dimensions: 172cm x 106cm.
Thai Siam Elephants is decorated with Thai elephants and Siam Thai vines as well as ornaments. This fabric is available in the size 170cm x 106cm.
Thai Siam Premium is decorated with stylish Thai ornaments. You can purchase it with the dimensions 200cm x 110cm.
All fabrics are made of 100% cotton and are washable at a maximum of 40°C.