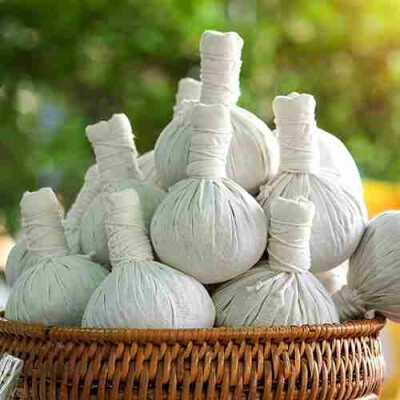 ---
---
---
For Original Thai Herbal Compress Massage
Experience the soothing effect of herbal ball massage - a traditional treatment method from Thailand that relaxes body and mind. In the My Thai Massage Shop you can get the right accessories to let your customers enjoy this traditional form of massage.
Kitama Thai herbal comnpress balls are handmade and consist of a mixture of aromatic herbs and spices bound in a cotton cloth to form a stamp. We offer original Thai herbal balls for both the body and face. Herbal Compresses for the body have a powerful blend of herbs. They are primarily aimed at promoting muscle relaxation. These body compress ball can help to relieve muscle tension, ease pain and promote general relaxation. We offer such body herbal balls in the sizes: 200g, 150g or 100g. Furthermore, you will find Special thai compress balls for the face in our online shop. These face balls contain a gentle blend of herbs and are primarily used for relaxation and stress relief as part of aromatherapy. They nourish and revitalise the skin and can help to clear the skin, refine pores, improve skin texture and reduce signs of ageing. We offer such Thai herbal compress balls for the face in the size of 50g.
Special blend of Thai herbs and spices
A special combination of traditional herbs provides a holistic effect on the body and the senses. The herbal compress balls are usually heated and pressed onto the skin, releasing the essential oils and therapeutic properties of these ingredients. This can help to relieve muscle tension, ease pain, nourish the skin and promote general wellbeing. We source our Kitama Thai Herbal Compress balls from a government certified producer in Chiang Mai. This means that we always offer reliable quality.
Essentially, Kitama Original Thai Herbal Stamps for the body contain the following ingredients:
✅ Yellow turmeric
✅ Black turmeric
✅ White turmeric
✅ Galanga (Zingiber cassumunar)
✅ Camphor
In traditional Thai massage culture, they are said to have the following effects:
Anti-inflammatory: Turmeric contains the bioactive curcumin, which has strong anti-inflammatory properties. When massaged with herbal stamps, the curcumin can help reduce muscle and joint inflammation and relieve pain. Zingiber cassumunar (Thai Phlai) contains bioactive compounds that have anti-inflammatory properties. This property can help reduce inflammation in the body, which can be particularly beneficial for muscle and joint pain.
Muscle relaxation: The heated herbal stamps are pressed onto the skin, allowing the heat and ingredients to penetrate the skin and help loosen and relax tight muscles. Camphor has cooling, analgesic and soothing properties that can have a positive effect on the muscles.
Stress relief: The scent can have a calming effect and contribute to relaxation. During a massage with herbal stamps, the aromatic properties can help to reduce stress and promote general well-being.
Skin care: Turmeric, as well as galanga and camphor, also have potential benefits for skin health. They can be used to care for the skin, soothe skin irritations and calm the skin.
Energy and circulation: Massaging with herbal stamps containing this special blend of herbs can promote circulation and have a stimulating effect on the body, increasing energy and vitality.
Furthermore, our Thai herbal stamps contain:
✅ Kaffir lime leaves.
These leaves have a refreshing scent and can help to relax and relieve stress.
✅ Lemongrass
Lemon grass has a refreshing scent and anti-inflammatory properties that can soothe the skin.
✅ Tamarind leaves
Tamarind leaves are said to have soothing and revitalising properties.
✅ Eucalyptus leaves
Eucalyptus leaves are mainly used in herbal stamps for their fresh and invigorating scent
Instructions for use:
Remove the herbal pouches from the packaging and heat in steam (approx. 20min). A steamer is suitable for this. You can find our steamer with keep-warm function here.
Carefully remove the herbal stamps from the steamer and check the temperature. Caution! This can cause burns. When the herbal stamps are at the right temperature, you can now massage them into the body in a circular motion.
After the treatment, allow the herbal stamps / herbal bags to dry and cool down. Afterwards, these used stamps can be disposed of. For hygienic reasons, Kitama herbal stamps are not suitable for multiple use.