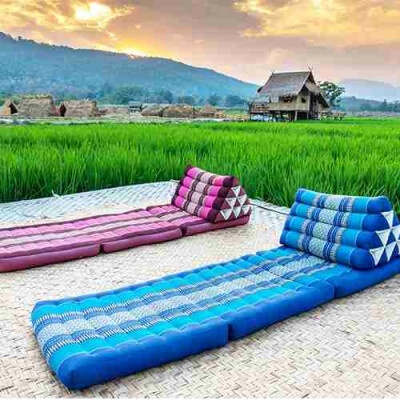 ---
---
---
Meditation, yoga and massage cushions from Thailand. Our kapok cushions can be used in many ways.
Our Thai pillows directly come from Thailand and are made there by local skilled personnel in finest handwork. The greatest care is taken to ensure the quality and sustainability of our Thai pillows.The various Thai pillows can be combined in different ways and are versatile. So you can create your own feel-good factor!
Sitting, lying, sleeping, meditating. No matter in which position, the Thai pillow provides maximum comfort. Used as a neck pillow, for example, the triangular pillow provides a comfortable head position without contortions.Our Thai pillow bone can be used perfectly as a leg rest. And to get through long flights, for example, to experience Thai culture up close, a croissant pillow is recommended.
Due to the special shapes of our Thai pillows, additional relaxation is created. Individual comfort for everyone is therefore guaranteed. The especially comfortable and ergonomic pillows convey a touch of Thailand. Supplemented by country-typical designs as well as a colorful design, the pillows create an atmosphere that lets you immerse yourself in Thai culture, far away from stress and tension.
Our cushions for relaxation and meditation are especially popular with yogis. An excellent sitting as well as lying comfort allows maximum Relaxation. Filled with natural kapok, the pillow has a gentle and pleasant effect on the skin. This creates the purest feel-good factor!
The cushions can be stored easily and space-saving. So they do not disturb even if they should not be used sometimes.