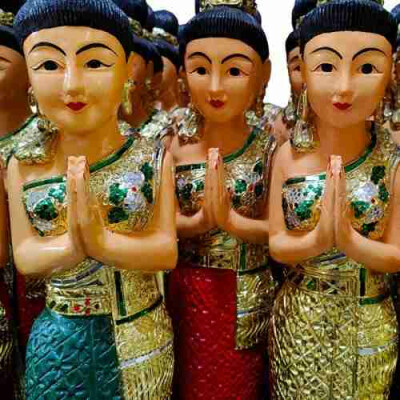 ---
---
---
Sawasdee Lady figurine made of wood, solid - Made in Thailand - unique piece, handmade
For an authentic ambience in Thai massages or Thai restaurants
With these Thai wooden figures, your customers will immediately feel at ease in an authentic Thai atmosphere and immerse themselves in the colourful Thai culture. Buy a Sawasdee Lady figurine from us and enhance your Thai massage studio or restaurant.
Available in different variations
We offer different versions of the Sawasdee Lady wooden figures in our shop:
Colour: gold, height: approx. 130cm
Colour: gold, red, green, height: approx. 105cm
Colour: gold, height: 67cm, 51cm Kneeling Sawasdee Lady
The wide range of different colours and sizes of our figures makes it possible for you to find the perfect wooden figure for your Thai studio or restaurant. Decorations in various colours, including gold and green, as well as jewellery ornaments give the Lady wooden figure a noble look that is guaranteed to leave a lasting impression on your guests.
Meaning of the Sawasdee greeting
The word "Sawasdee" can be roughly translated into English as "Welcome". The folded hands of the Lady wooden statue represent the typical "Wai" greeting, which is used throughout Southeast Asia as a greeting gesture that warmly invites your guests to stay.
Handmade with the highest quality
The Sawasdee wooden figurines made from the rain tree, which is common in Thailand, were carved, decorated and painted by hand, so that each Thai Sawasdee Lady figurine is unique and may differ minimally in colour and shape. These figures are one of the most popular wooden figures in Asia, which have their origin in Thailand.