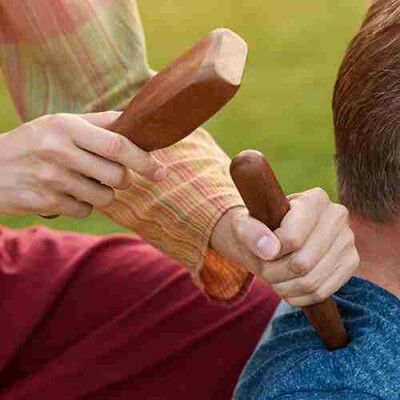 ---
---
---
Massage tools of all kinds, such as massage woods, massage aids, cupping massage sets or hot stone massage sets
Our massage tools range from massage woods and massage aids to cupping massage sets and hot stone massage sets. No matter what your needs are, you will definitely find what you are looking for. A perfect massage is therefore guaranteed! The work as a masseur is particularly strenuous and strains the body, joints and tendons. Our massage tools help you to stimulate important zones and points mechanically rather than manually. This enables you to achieve a very good massage result with less effort.
Our massage woods come directly from Thailand and are finely handcrafted by a local company. As with all our products, the focus is on outstanding quality. Solid real wood and high-quality workmanship are the hallmarks of our Kitama massage woods. In addition, we maintain a cooperative business relationship with our manufacturer in Thailand. This not only guarantees the consistent top quality of our products, but also fair payment. In our assortment of Thai massage woods you will find the following massage aids:
Massage wood cross
Massage wood stick
Massage wood tricorn / bird
Massage Wood Point Massage
Tok Sen Hammer Massage Set: 3 pcs.
Tok Sen Hammer Massage Set: 5 pcs.
Tok Sen Hammer Massage Set: 8 pcs.
We are particularly proud of our unique Tok Sen Hammer massage woods. The hammer and chisel have been specially developed to meet the needs of professional hammer massage. By tapping the skin with hammer and chisel along the energy line, vibrations are created that reach deep into the muscles. This loosens the muscles as well as fasciae and ligaments and produces a deep relaxation. However, a professional hammer massage requires qualified personnel.
Furthermore, we offer various cupping sets for vacuum massages. This special kind of massage mainly works against tension and originates from the Far East. By sucking on certain points on the body, the muscles are loosened and relaxed. Qualified staff is also required for this application.
Various posters on Thai massage and relevant zones & points on the body round off our product category "Massage tools".  They provide information about all important areas and zones on the body. They also show important massage positions and postures during the Thai massage.