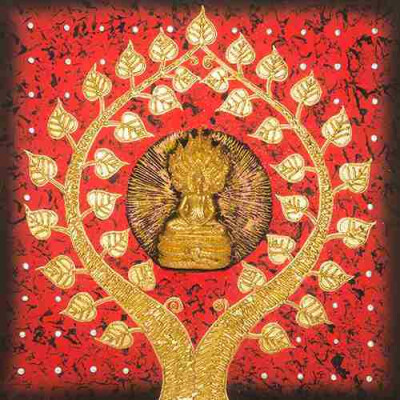 ---
---
---
Traditional Thai Art. Whether structural pictures, canvases or posters. Here you will find beautiful pictures for a harmonious ambience
Our Thai pictures and paintings come directly from Thailand, where they are finely handcrafted by local experts. Great care is taken to ensure the quality of our pictures and paintings. Thus, each work is unique! Furthermore, we offer various posters and canvases with great Thai motifs.
Depending on your taste, you can find traditional Thai structure pictures and canvases. Especially our 3-piece structure paintings create an authentic Thai impression in your Thai massage studio or at home! Each texture painting is hand-painted by painters from Chiang Mai in Northern Thailand. They are then licensed by the Fine Arts Department Thailand to confirm their originality.
We offer original texture paintings from Thailand in the following sizes:
90cm x 50cm
130cm x 80cm
160cm x 100cm
You can choose between the background colours red, dark red, green, dark green, turquoise, brown, black and white. The colours underline the respective motifs made of gold leaf. With the help of these organic motifs such as trees, leaves and round shapes, the pictures radiate a certain serenity and calm, perfect for complete relaxation during a Thai massage or for a harmonious ambience in a Thai Restaurant.
All textured images are finished with gold leaf to complete each unique piece.
Our posters & canvases show the traditional Siamese art of massage. Different exercises and positions during the traditional Thai massage are illustrated here. Here we offer a range of different motifs in various sizes. Whether on high-quality 200g photo paper or as canvas, printed on cotton with frame. We have something for every budget.
You will also find various pictures with Asian elephants in the last natural dispersal areas where they occur. Beautiful natural landscapes decorate the picture and convey an inner peace, which is enormously important especially for Thai massages. A colourful design reflects the mentality of the Thai people and conveys an authentic feeling of Thailand. A composition of several pictures creates an Asian atmosphere of a very special Kind.