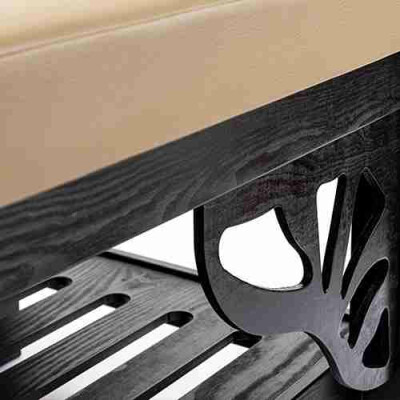 Therapy Table and Accessory
---
---
---
Professional real wood massage tables for Thai massage spa Wellness
Our Thai massage tables / stationary massage tables are manufactured by professional carpenters & upholsterers.
With our Kitama Massage Tables Basic & Premium, we place particular emphasis on excellent quality. And we are particularly proud that after years we have finally found professional partners who meet our high standards of quality, especially:
High quality material
Professional workmanship & lacquering
Special stability
Maximum lying comfort with optimum mattress hardness
Easy assembly
correspond.
We offer Thai massage beds in a basic as well as a premium version to suit every budget. The difference lies mainly in the material used. The Basic massage table is made of Asian solid wood. The Premium massage table, on the other hand, is made of high-quality beech wood from Eastern Europe.
Our thai therapy tables have a length of 200cm and a working height of 65cm. This height has proven to be optimal for treating clients in the context of Thai massage. In addition, this height makes it easy to get on and off the massage bed. Is a working height of 65cm too low for you? No problem!  You will also find corresponding height adapters for our massage beds in our range. This allows you to raise the massage bed to a height of 70cm or even 75cm.
In addition, every massage table has a face cut-out. This enables a straight lying position and easy breathing during the massage. And this has a positive influence on the well-being of the customers. Satisfied customers remain loyal to their massage studio. The width of our Thai massage tables is selectable. You can choose from 80cm, 100cm or 120cm width.
Each massage bench has a practical shelf. Ideal for storing light objects such as towels.
Our tip: Decorate the shelf at the height of the face cut-out. For example, with a nice bowl filled with fragrant water and flowers. From experience, this has a positive influence on the massage experience.
To guarantee the necessary hygiene, our imitation leather covers are washable. We also have matching disposable hygiene sheets and fitted sheets with face cut-outs for our massage tables. Especially for the headrests, we also have disposable nose slit sheets as face pads.
You would like to replace an old massage mattress? Or do you need a suitable mattress with face hole for your wooden frame? Alternatively, we also offer the mattress with integrated wooden plate for massage table separately. The attachment to wooden frames of massage tables is easily possible with the help of angles. This is possible because an approx. 1cm high wooden plate is incorporated on the underside of the mattress.